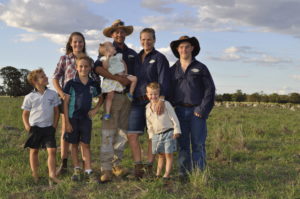 WHEN Veronica and Dan Laffy started turning their Dalby cultivation country back to grass and using organic to describe their business approach, they knew it was a gamble.
Yet even as they weighed up the risk and compared their change in direction to "jumping off a cliff", they knew it was worth was a try.
"Dan's family has farmed here for 90 years and we've lived here since we were married but, for us as a couple with young kids, farming 1500 acres conventionally wasn't economic," Veronica explained.
"So for a long time we both had off-farm businesses: I had a childcare centre in town and Dan worked as a contractor fencer when he wasn't farming.
"Both of us had successful businesses, but on-farm for a time it seemed like we were just making enough to pay for the chemicals and fertilisers to put the next crop in.
"So opting to change everything about how we farmed was like jumping off a cliff.
"Doing what we did, well that was like starting again."
Change came when the second of the couple's six children was born with Down Syndrome. It proved a turning point for a young mum already conscious of her family's health.
"I guess I never felt I had enough energy," Veronica said.
"Then when our second child was born with Downs, it wasn't a catalyst but it was a motivator for us as a family, making changes to ensure we were as healthy as we could be."
She started buying organic fruit and vegetables, forgoing processed biscuits and refined food to keep within her grocery shopping budget.
But it was in the paddocks of the couple's former grain-growing property that they really started to make a change.
"We were paying a lot in input costs cropping and, at the end of the day, we never seem to get the rewards," Veronica said.
"I also worried about how much Dan was handling chemicals; I could smell them on him and in our paddocks."
So in 2008 they made the momentous decision to convert to organic; at the same time they switched from grain production to beef and prime lambs.
Inspired by American farmer Joel Salatin, they worked to introduce a sustainable rotational grazing system, reducing the chemical and fertiliser costs and creating a business that produced organic, grass-fed meat.
While their current operation revolves around grass-fed angus cattle and dorper-cross prime lambs, their long-term plan is to add pastured poultry and free-range pork.
The switch from running cropping country to grazing has meant adding substantial water and fencing infrastructure. But Veronica said Dan's experience in business made him the perfect candidate to tackle the latter.
"We have set up a rotational system and it definitely took some work, but we are really proud of what we have achieved," she said.
"We are producing organic grass-fed beef and lamb that we know is safe and healthy to eat.
"Last year, when the season was dry, we still had well-grassed paddocks and our grass was green and we found using an intense rotational grazing system we actually had less trouble with weeds than we'd ever had before.
"This was confirmation for me that it was good for the land."
The couple run 50 red angus breeders with weaners, while the remainder of their cattle herd is black angus and murray grey steers, complemented by a flock of wiltshire ewes and a dorper ram.
The steers are turned off at between two and three years old, weighing between 500 and 520kg.
"It is definitely more difficult to control weight gain when animals are grass-fed, but I think the benefits are in the taste and quality of the final product," Veronica said.
She would however like to see more stringent controls around product description for grass-fed producers.
"At the moment, under official guidelines, people can feed an animal grain for less than 70 days and still call it a grass-fed product, which is crazy because that isn't really what it is."
It is one of the reasons the couple has willingly opened the gates on their property to the public, hoping transparency and a chance to see production first-hand will help consumers understand and appreciate sustainable agricultural systems.
"I think people increasingly want to know how their food is grown," Veronica said.
"They are hungry for knowledge and we want to share what we are doing.
"I am really proud of what we are doing and the way we are producing food."
When the Rural Weekly caught up with the Laffy family, they were preparing to deliver their first Laffy Family Farm beef to customers.
"Our meat is processed at the Bell Butchery, because for us it is more than just producing healthy meat, it's about doing what we can to support our community," she said.
It's also why this mum of six – soon-to-be-seven children aged from 15 years to two years old – is also particular about how she delivers her product to market.
"With our beef, for example, we sell direct to consumers for $18/kg and, while people might initially think this is high, when you consider meat prices, I believe it's reasonable," Veronica said.
"If you go into the local butcher you can buy normal mince for between $9 and $12 a kg.
"If you buy organic, grass-fed rib fillet from a butcher you can pay anything from $48-$60 a kg, and sausages and mince are $22-$25 a kg.
"Our aim is to produce good quality beef that is affordable for everyone."
As a mum and a childcare professional, she had witnessed first-hand the impact of a real food diet versus one with highly processed product, like chips and biscuits.
"If you eat well, there is no doubt you feel, and are, healthier," she said.
"I don't buy into the argument that it costs more to buy organic produce.
"If you buy bananas instead of biscuits, I don't think it ends up costing you more."
She is also an advocate of consumers taking responsibility for the quality of food they buy.
"We've had a government- will-sort-out-everything-for-us attitude and believed everything in supermarkets was safe and tested," she said.
"When really what we eat is our responsibility."
Link to the full article is here: https://www.thechronicle.com.au/news/a-healthy-approach/2589780/





by