Do you sell individual cuts?
We currently only sell ¼, ½ or whole animal cuts. We are a small processor and this means that you get a great variety of product and we do not have the cost burden of carrying stock.
How much meat do I get?
A quarter pack of beef usually equates to 34 kg – 70-80L freezer.
A half pack of beef usually equates to 68kg – 160L freezer (small square chest freezer)
A whole pack of beef equates to roughly 136kg – 320L large freezer
Our lamb family is growing. We have limited availability of lamb at the moment and will keep you posted on availability.
Flat fee delivery
Our delivery costs are a flat fee including GST. Simply select your location at checkout.
Toowoomba, Dalby, Brisbane, Gold Coast, Sunshine Coast – $11
Bundaberg – $17
If for some reason your order delivery cost is going to be different to this, we will contact you directly.
Where do we deliver to?
We deliver to Toowoomba, Dalby, Brisbane, Gold Coast, Sunshine Coast and Bundaberg and will arrange to meet at a central location for pickups.
Once you have placed your order, one of our friendly Laffy Family team members will be in touch to arrange your delivery.
How do I pay?
At the time of ordering, you will pay a 50% deposit on the expected price of your order. The remainder will be invoiced to you after your pack is weighed (prior to delivery), and payment of this is due 24 hours before delivery to secure your order. This method is to allow for the natural variation in order weights.
We can accept payment via Paypal or Direct Bank Debit.
Our bank details are:
DR and VM Laffy
BSB:        638 180
AC:           1159 0874
Please email payment confirmation through to info@laffyfamilyfarms.com.au
Is there a quality guarantee?
We guarantee that our meat is 100% organic and 100% grassfed. This means that the flavour of the meat can change depending on the season.
If the packaging of your meat is damaged and you are unhappy, we will happily replace the damaged meat for you at no cost.
Is the meat certified organic?
All of our meat is 100% certified organic through ACO. No hormones, no chemicals, no grain. 100% grass fed, 100% organic.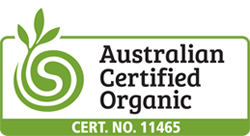 How is the meat packed?
The order will be packed in portions and placed in a cardboard box.
Is delivery refrigerated?
Yes, the delivery will be made using a refrigerated vehicle.
How regularly are deliveries made?
Deliveries will be made within 3 weeks of processing. Our meat is aged for up to 16 days to allow the enzymes present in the meat to break down the muscle tissue, resulting in better texture and flavour.
How long will I have to wait for my order?
Customers will be kept up to date with the processing of their order by a Laffy Family team member. Usually, it will take about 3 weeks.