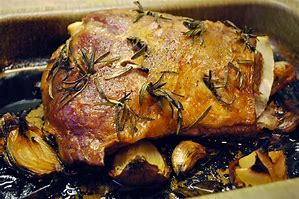 INGREDIENTS:
(2 kg) lamb shoulder, bone in
1 bunch fresh rosemary (a large bunch, or two small bunches)
1 bulb of garlic, unpeeled (use 2 bulbs if you love garlic)
2 lemons
SAUCE:
1 Tblsp flour
Juice from roasting pan
Oil from roasting pan
2 Tblsp Red wine vinegar
Bunch of peppermint finely chopped
Turn your oven up as HOT as it will go.
Now, using a sharp knife, make a diamond pattern in the fat layer on your lamb.
Add half of the rosemary sprigs to the bottom of the roasting pan.
Scatter over half of the unpeeled garlic cloves (a full bulb if you're a garlic freak, half a bulb if you're not so keen on it).
Place the lamb on top, I never add oil to my lamb – it already has enough fat on it and this will melt over the lamb as it cooks.
Sprinkle with sea salt and black pepper.
Squeeze the lemons over the top of the lamb.
Scatter the rest of the rosemary and garlic cloves on top of the lamb.
Cover the roasting tin tightly with aluminium foil (you may need several layers to make sure it's tightly covered), then place on the centre rack of the pre-heated oven or BBQ.
Immediately turn the heat down to 160C if you're using a fan forced oven, or 170C if not.
Cook for four hours.
Once cooked, remove from the oven, remove the foil, and you will find the large bone will easily pull away from the meat.
Now, use two forks to separate the meat from the bones, and pile the meat onto a plate.
Cover meat and keep warm while you prepare the sauce.
Remove the rosemary from the baking tin.
Remove the roasted garlic cloves to a plate and let them cool a little.
Pour the cooking juices/oils into a jug.  The oil will separate from the juice.  Use about a table spoon of the oil – put this back in your roasting pan.  Separate the rest of the oil from the juice.  Add the juice to the roasting pan.( I keep the rest of my oil in a glass jar and use this to roast vegies DELISH!  Just be careful to pour into the glass jar when it's cooled down, not when it's hot.)
Pop the roasted garlic cloves out of their skins, add to the roasting pan and smash up with the back of a wooden spoon.
Place the roasting pan on the stove on a medium heat.
Stir in 1 tablespoon of flour, then stirring constantly with a wooden spoon, gradually add the chicken stock.
Boil, stirring, for about 5 minutes (remember this is a sauce, not a gravy, so it won't be thick).
Now add the finely chopped mint and red wine vinegar.
Boil briefly and then pour into a jug.
Dinner is ready.  Serve with roast vegies or a roast pumpkin salad.
Voila!  Magnifique!





by